Carpets and Rugs from Karastan
Karastan introduced American families to the notion of walking in comfort. With innovative ideas that formed the industry standard, the products stand the test of time to make your home, beautiful. The Kara-Loc method made possible the production of quality carpets at affordable prices for any consumer. First Floors Carpet One Floor & Home is your local dealer for Karastan carpets and rugs.
We have showrooms in Dallas and Waxahachie.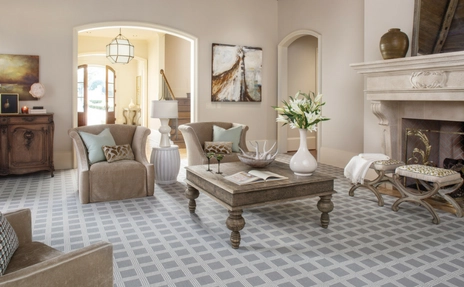 Durable Carpets from Karastan
Karastan continues to build their carpets to last for years in your home. These carpets combine beautiful design with unmatched durability. Only premium fibers are used to ensure top-notch quality. Karastan carpets are engineered to be resistant to soiling and staining. Maintenance for your new carpet is much easier as a result.
Karastan carpets are designed with high-quality materials that are both practical and functional. These carpets will withstand the test of time. The room you choose will be transformed into an engaging space.
Superior Pet Protection
No longer do you have to sacrifice looks for a functional carpet. With Karastan's SmartStrand Forever Clean carpet you are getting an incredibly durable option that is also extremely stylish. Care and maintenance have never been easier with a carpet either!
It doesn't matter what kind of pet you have, the SmartStrand carpet uses state of the art technology to assist with making your carpet a breeze to maintain. SmartStrand has a 0% absorption rate that prevents musty odors from lingering. The fibers that make up the carpet are also renewable and sustainable; which means you can have the peace of mind knowing that you are purchasing an environmentally friendly carpet.