Learn About Hardwood Refinishing
First Floors Carpet One is your one-stop-shop when it comes to hardwood flooring. Not only do we offer the area's best selection of hardwood; we also offer hardwood refinishing services.
What Is Hardwood Refinishing?
Your new hardwood floor needs to be finished to protect against scratches, scuffs, and other surface blemishes. Also, finish can provide extra shine and color to the surface. But, over time finish will wear off, so the hardwood floor will need to be refinished. Hardwood refinishing involves sanding the surface of the floor to remove any excess finish. Sanding also helps smooth out any surface imperfections. Then, new finish is reapplied to the surface, so your hardwood floor will look as good as new. Most solid hardwood floors can be refinished multiple times, while engineered hardwood floors can usually be refinished one or two times.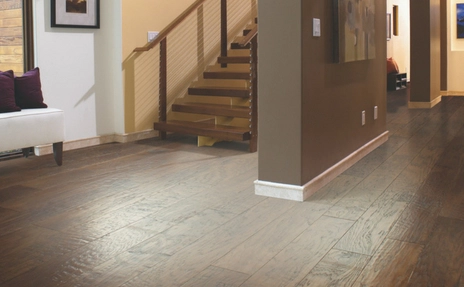 When Is Hardwood Refinishing Necessary?
We have an easy test that you can do on your own to determine whether or not you need to refinish hardwood floors. First, place a drop of water on your floor's surface. If the drop beads at the top, then refinishing is not necessary. If, however, the drop beads at the top but then is absorbed in a few minutes, then refinishing is not yet necessary but will be soon. If the drop is absorbed right away, then it is time to have your floors refinished.
Our Services
We at First Floors Carpet One can handle your hardwood refinishing needs. We work with teams of experts who know exactly how to refinish hardwood floors, so we can guarantee that the process will go smoothly. We'll work with you so you can understand the cost to refinish hardwood floors, and we'll be sure to accommodate your schedule. Be sure to visit us in Dallas or Waxahachie to get started!
We are happy to offer a dust free sand and finish!