There are many carpet options available on the market today. This can make buying carpet seem daunting. Fear not, though! We're here to help guide you through finding your perfect carpet. Carpets vary in color, pile, type, material, cost, and more. When it comes to the question of how to pick carpet colors for your home, it's essential to consider all of these factors. However, arguably the biggest decision is what color carpet you choose. If you're unsure where to start with your carpet color choice, you're in the right place. Whether you're looking for a pure white carpet, a brightly colored carpet, or a dark-colored carpet, you can find it all at your local Carpet One location. We're breaking down some tips on how to find the perfect carpet colors for your home!
Carpet Trends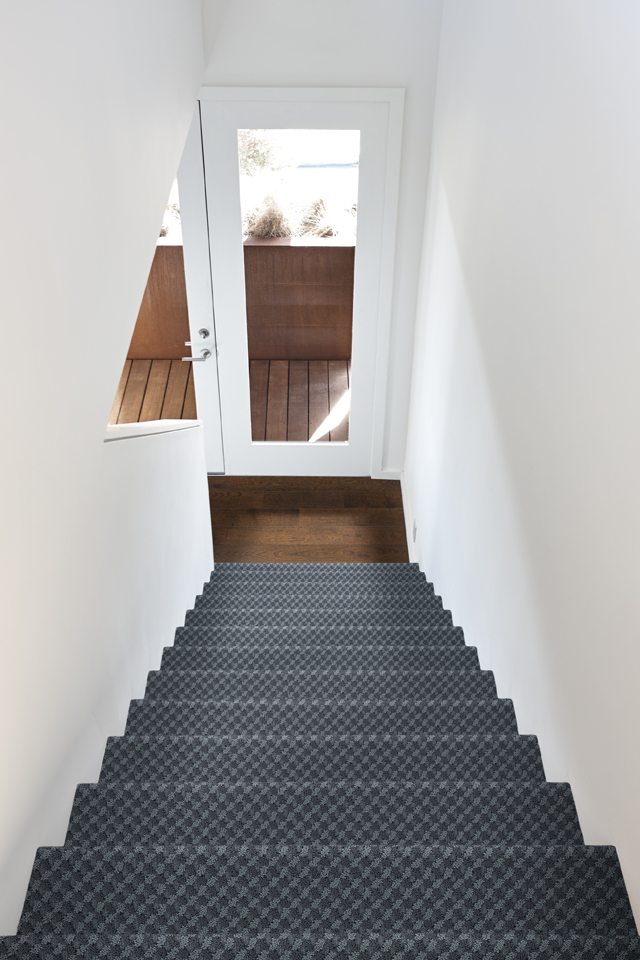 One thing you should consider when looking for the perfect carpet color for your home is today's trends. Check out what's fresh and hot, and whether that fits your interior design style. Trendy carpets range from brightly colored carpets to very dark colors, new patterns, and unique carpet styles with waterproof wicking features.
What is the Best Color for My Home?
When choosing a carpet color for your home, it's important to see how the colors look in your space. Carpet colors can be directly influenced by the amount of natural light in your home and the size of your room. We recommend ordering different colored carpet samples before committing to an entire carpet. Our sample box makes this easy for you —simply click here to order up to six different flooring samples to try them in your home today!
Carpet Colors
Neutral Colors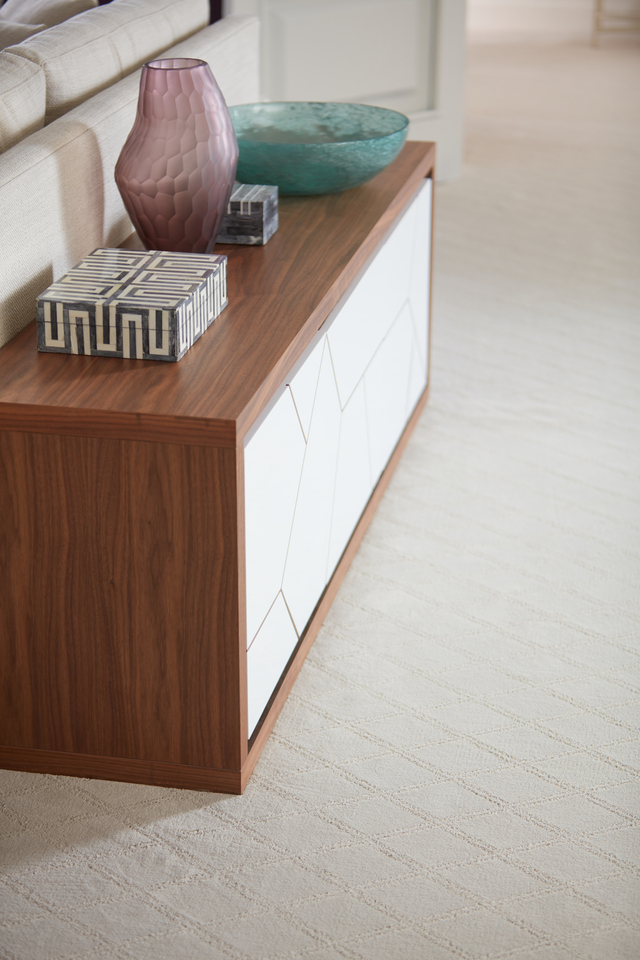 While trends come and go, neutral colors have stuck around forever. They offer a timeless feel and can be long-lasting through ever-changing interior design trends. Grays, beiges, browns, and even certain shades of blue can be considered neutral carpet colors. So, if you're hoping to choose a carpet color that will adapt to nearly any trend or style, a neutral carpet color is an excellent choice for you.
Dark Colors
Dark colors can instantly elevate a room and create a feeling of luxury and warmth, while simultaneously hiding dirt, debris, and stains in high-traffic areas. Consider carpets in darker colors such as blues, purples, maroons, and blacks when shopping for a floor in your entryway, hallway, or entertainment space. Carpets in a darker color make for a cleaner appearance and can make any room feel immediately more comfortable.
Light Colors
Light colors open up your space and make a room feel bigger, thanks to their ability to refract natural light. Oftentimes, light colors are used to brighten up small spaces like nurseries, home offices, and bedrooms. Choose whites, beiges, creams, or even light shades of green or pink if you're looking for a fresh, clean vibe. But, be careful if you are looking to install a light-colored carpet in a high-traffic area as dirt is harder to hide —look for products that are stainproof and easy to clean in case of a mess.
Gray Carpet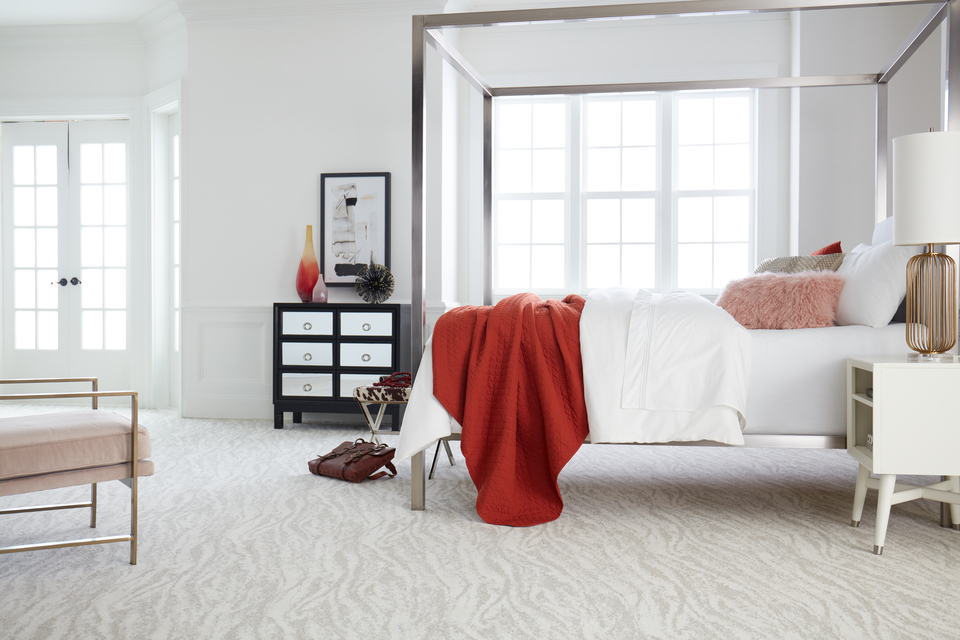 While gray carpet is considered a neutral carpet color, it can also be quite the showstopper. Dark gray carpet colors and tones lend themselves to more dramatic, moodier designs and help hide spills and stains. On the other hand, light gray carpet colors brighten a room and make it adaptable to many design styles.
And, while light and dark gray colors may seem like the only two options when it comes to gray carpet, you may be surprised to learn that there are even some warm shades of gray carpet that feel more like a "greige" than an explicit beige or a gray. These warm gray carpet colors are ideal for spaces with a warmer wall color and design style.
Tan and Beige Carpet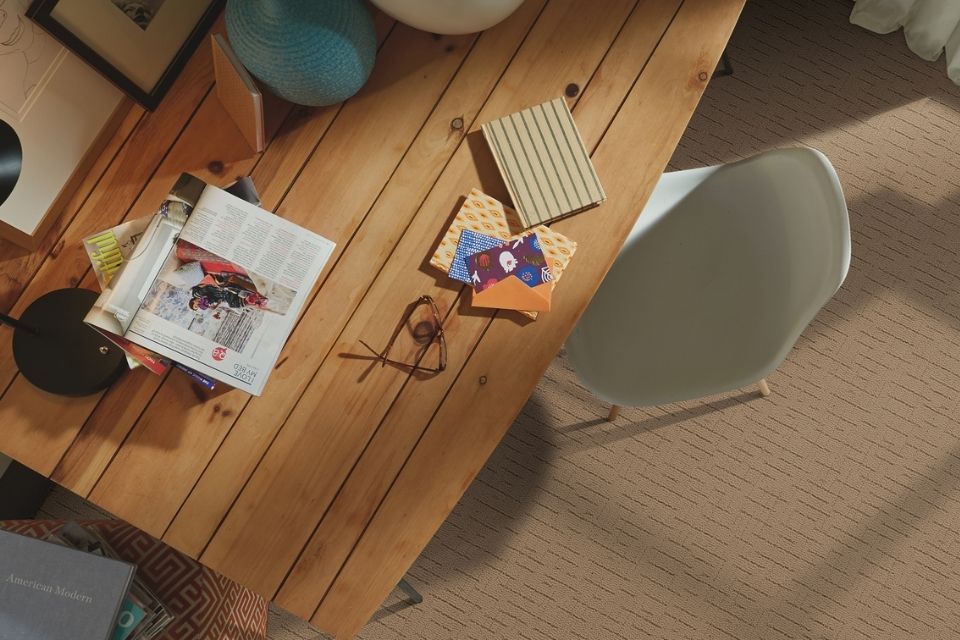 For years, tan and beige have been the carpet of choice for homes everywhere. That's because these carpet colors fit all design styles and offer a timeless appeal. Rather than going for that pop of color or trend, opting for a tan, beige, or brown carpet will ensure that you invest in a carpet that will stay relevant through changing design trends. Brown carpets are making a comeback this year, as we see a return to natural earth tones in home design. Brown carpeting is also perfect for hiding any pet hair or dirt tracked in from outdoors. Just because you have a neutral-colored carpet, doesn't mean that your space has to feel stale —find patterns or textured carpets in brown, beige, or tan to set your floor apart!
Blue Carpet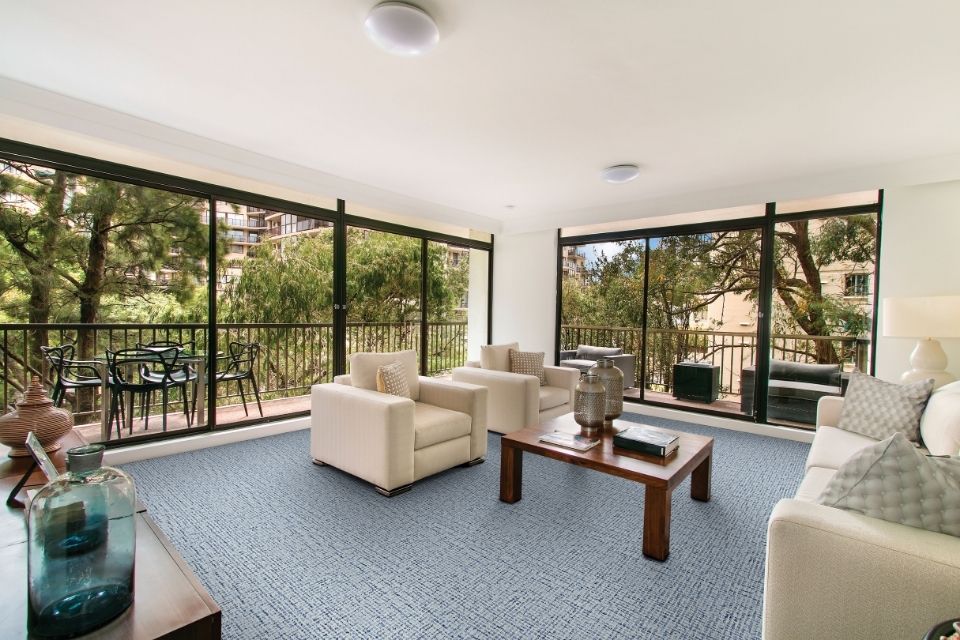 Blue carpet is the perfect way to go if you want to add a dash of color without overwhelming your home with saturated hues! Classic and timeless, shades of blue carpet can add a subtle hint of color to your space, whether through a stark blue textured cut-pile in the bedroom or a patterned light blue carpet in the family room.
Black Carpet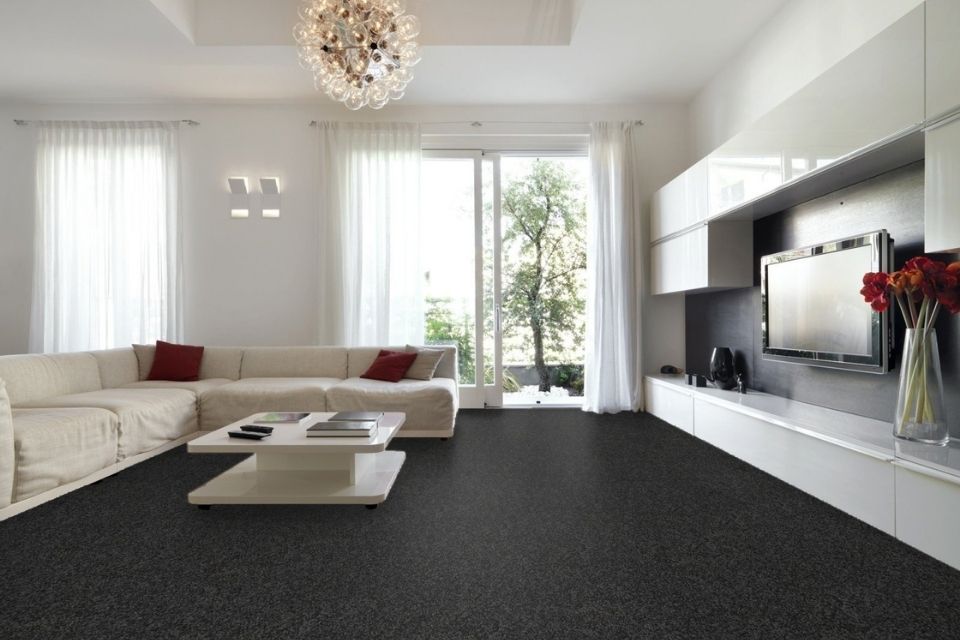 You simply can't forget black as part of the neutral carpet color options, especially for those modern and contemporary homes! Not only does black carpet make a statement, but it also provides an excellent option for a home with lots of kids and pets as it's easier to hide stains and spills. Available in a range of shades from dark to light, black carpet is a great choice for many homes!
Are You Upgrading or Starting Fresh?
First and foremost, if you're moving into a new build home or remodeling from scratch, you might have a few more options to start with than those looking to upgrade carpet and keep existing furniture and wall colors. While there are still plenty of carpet colors, design styles, and patterns out there for almost any home design, starting fresh gives you a blank slate to work with. However, it can often be tough to know where to start regarding carpet, wall colors, furniture, linens, and décor, so where should you begin?
Suppose you have not yet chosen any part of your interior design. In that case, we recommend choosing an overall color palette or color scheme and a furniture swatch or piece of furniture, then choosing flooring, followed by paint. It is much easier to paint walls or change furniture than it is to replace the flooring, so keep this in mind when thinking about your best carpet color options. When selecting your paint color, be sure to choose a color that complements your carpet.
Think About Your Lifestyle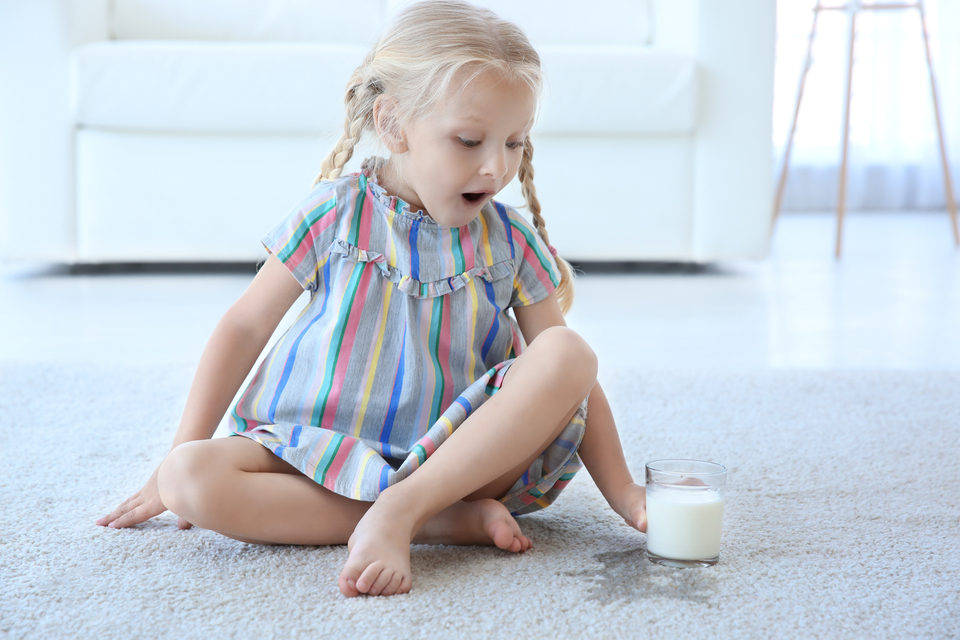 Do you have kids or pets? Or do you live a quiet life by the beach? While you may not think your lifestyle will play a huge part in your carpet color choice, you may be surprised. Carpet features like stain resistance and easy cleanup have come a long way. Still, it's much easier to pick a carpet that works with your lifestyle, rather than constantly worrying about having a clean carpet.
Colors like white, light beige, and any light neutral is more difficult to keep clean regarding food spills and messes, pet accidents, and mud and debris. However, they work well for quieter households and rooms like dens, living spaces, and bedrooms, and can be kept just as clean, depending on their durability. If your house is full of young kids, it's best to opt for a darker neutral, flecks of a few different colors, or even a carpet with a pattern.
Other colors like deep gray, shades of blue and green, and carpets with multiple colors throughout are also ideal for homes with busy lifestyles or active families. This is a great tip to keep in mind when choosing the best carpet color.
Remove Color Options You Don't Like
This might seem like a simple tip, but it's one of the most important. If there are carpet colors you don't like, don't even think about them! Remove them from the available options at the beginning of your search, so you can narrow down your options. It's better to be honest with yourself than waste time considering colors that you likely won't be happy with in the long run.
Consider Your Wall Colors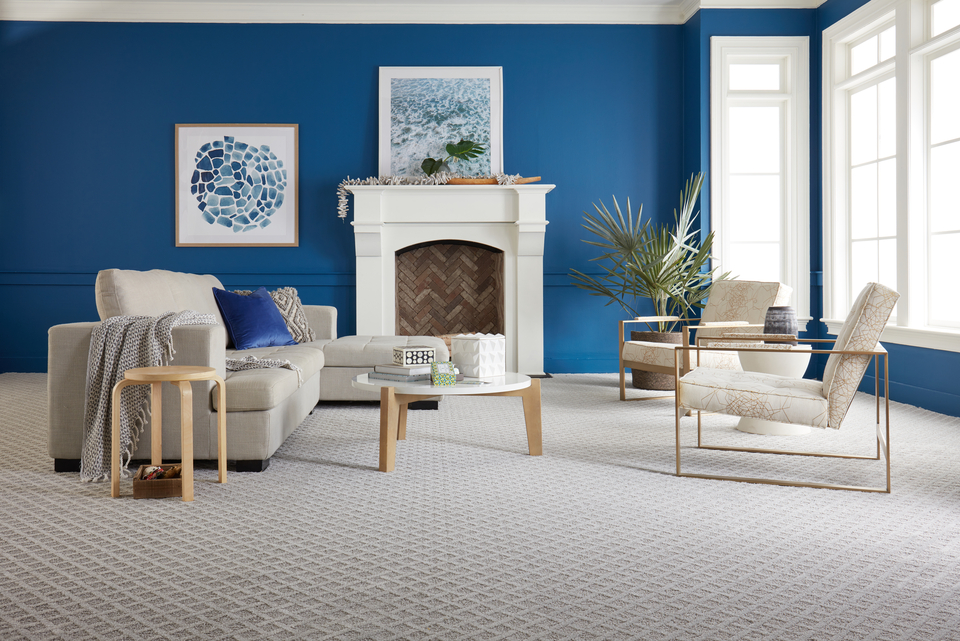 Navy, cool gray, warm gray, white, light pink —whatever your wall color is, make sure you think about it when choosing a carpet color unless you're willing to change it. One thing that often gets overlooked when choosing a carpet color is the undertone of wall colors. Sure, you might have gray walls, but are they warm or cool gray tones? It's better to pair warm tones with warm tones and cool tones with cool tones rather than ending up with your home feeling like something is just a bit off.
If you can, take a paint swatch of your wall color with you while looking at carpet colors. This will help you get a better idea of whether or not the carpet will match the overall color scheme in your household. If you're willing to change your wall color, bring a few swatches and see which direction you're leaning. You'll be able to narrow down a few wall colors, and probably a few carpet colors too.
Solid Color vs Pattern Carpet
Now, some might wonder: Should I choose a solid or pattern carpet for my home? Explore the pros and cons of both:
Solid Color Carpet
While no one can deny the bold statement that a pattern makes in your design, if you already have a lot of patterned pieces in the room, from furniture to wallpaper to artwork, stick to a solid color carpet. You don't want to overwhelm the space with competing visual elements, so a solid-colored carpet is probably the best option if you have a smaller space. A solid carpet can beautifully tie your space together by using one shade to ground the other elements and colors in your room.
Pattern Carpet
Patterned carpets are a great way to alter perspectives in your home by adding the illusion of extra depth to your space. For instance, adding horizontal stripes to a narrow room makes the room appear wider. If you decide to add a patterned carpet to your space, here are some rules of thumb to follow:
Use one standout pattern per space

Avoid busy patterns with bright colors

If you have textured walls/furniture, choose a carpet with a subtle pattern

Avoid using two dense patterns in the same space
Patterned carpets come in a wide array of choices, from chevron to stripes to floral to animal print and more. Don't be afraid to have fun with your patterns and test your aesthetic by mixing and matching.
Order Some Samples and Live with Them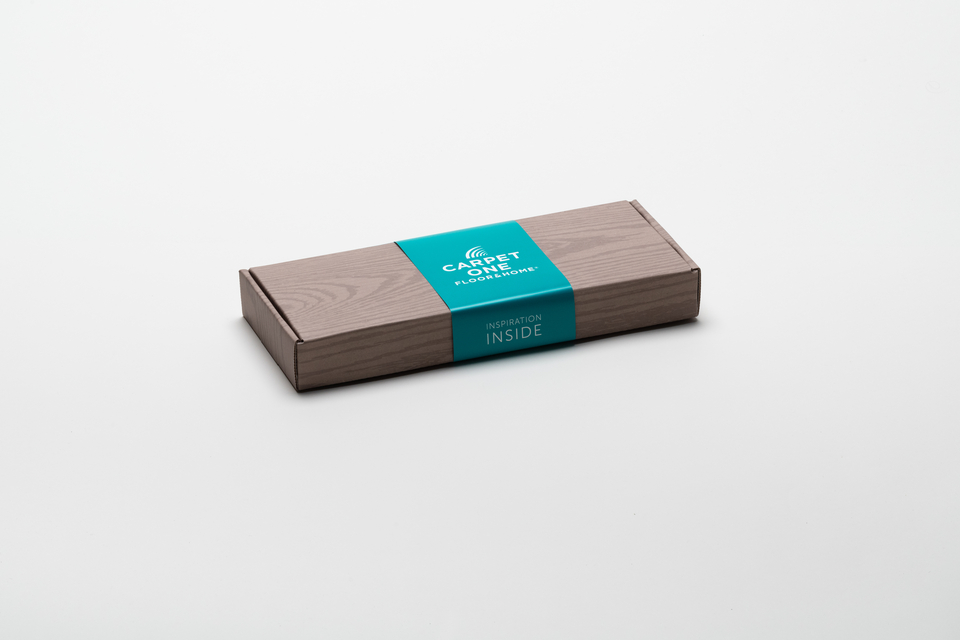 Okay, so you think you've found the best carpet color —now what? Our suggestion actually isn't to dive in headfirst and purchase, but instead to order some flooring samples and live with them for a while. Just like trying out paint samples on your wall, it's important to see the carpet colors in your space in different lights and rooms. You'll get a better feel of how much you like them after you can look at them over and over for a few days.

If you're interested in finding the perfect carpet color for your home and want to get started, check out our extensive collection of carpets. Think you're ready to order flooring samples? Check out how you can do that here, and view all of the different ways to evaluate your carpet samples in our blog post How to Use Flooring Samples to Pick New Floors.
What's Trending In Interior Design?
The pending arrival of the new year marks the perfect time for all of us to reassess possibilities —and make predictions —about what comes next in how we live.
Maybe it's the TV room where the carpeting lost its shine years ago or the kitchen where the flooring is no longer appealing (or maybe just peeling). The new year is the perfect time to reevaluate living and working spaces —from the floor up with new design trends!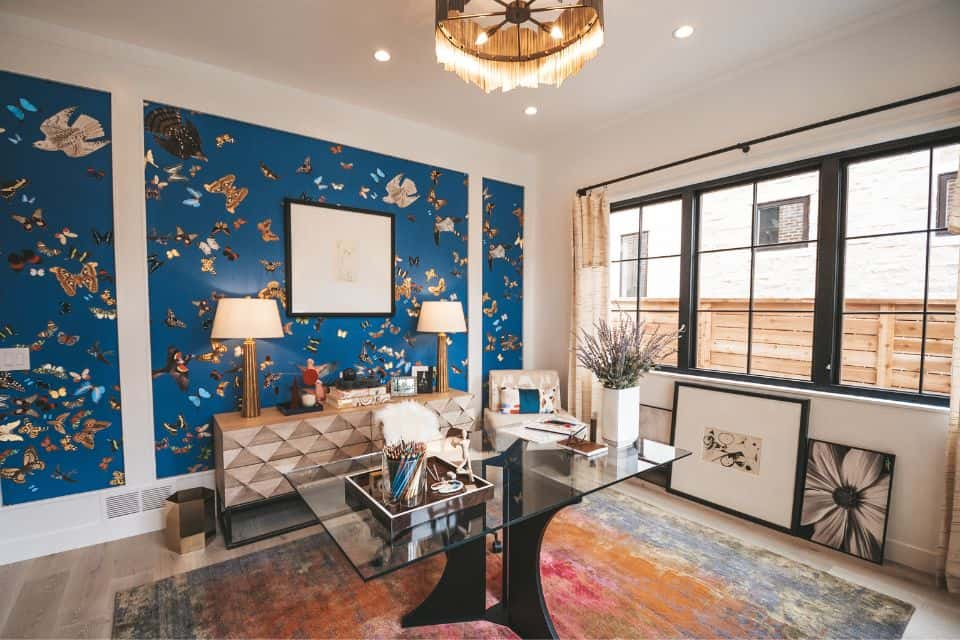 Design by MARGARITA BRAVO Photography by TIA CURRAN
Fortunately for you, we've analyzed buying patterns, conferred with top interior designers, and considered lifestyle predictions to come up with our "2023 Floorcast" of the new year's hottest flooring trends. Whatever your design style, you're sure to find a trend that fits your aesthetic appeal. Take a look at our top 8 design tips for the best ways to incorporate the new design trends that are taking over the interior design world this year!
Adding Curves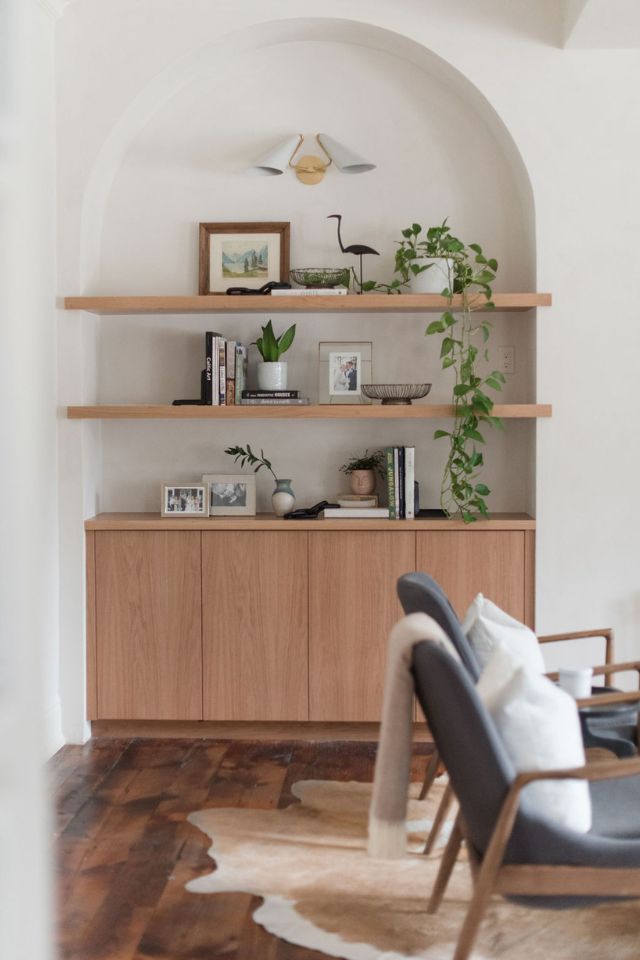 Design by LISA KOOISTRA Photography by BLYNDA DACOSTA
Except for an occasional arched doorway or window, homes are basically composed of straight lines. Furniture, paint, and decor can certainly soften the look, but imagine being able to incorporate soothing curved lines and swirls of color into the flooring as well.
"Trends come and go, but there is something beautiful and classic about archways. Most doorways and pass-throughs are uninteresting, but archways create a statement when used sporadically in an interior whether through a pantry, kitchen, long hallway, bathroom, or bookshelf," said interior designer Lisa Kooistra of Kooistra Designs.
To incorporate curves into home design via flooring, sculpted and tufted pattern carpet creates a sense of movement and gives a room flow. Vintage hardwood can do the same by showcasing the wood's natural curved lines and knots.
Get This Look with this gray sculpted patterned carpet or a vintage oak hardwood.
Incorporating Patterns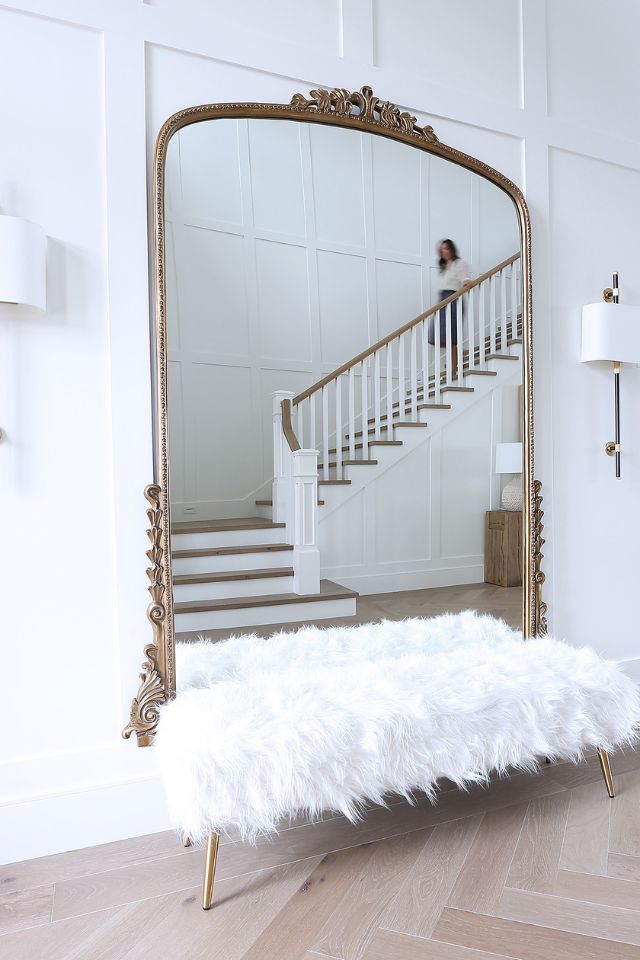 Design by TRISHA ISABEY Photography by TREVOR COOPER
From carpet and hardwood to laminate and tile, mixing and matching patterns adds visual interest to any room.
"Floor patterns are trending—from herringbone to patterned tile. The herringbone is incorporated into tile or wood, sometimes throughout a main floor or in smaller areas such as an entryway. The patterned tile is created in a geometric style and is used primarily in powder-room floors, mudrooms, and laundry rooms," said Trisha Isabey, owner and principal designer for Isabey Interiors in Kelowna. B.C.
Encaustic tile and ceramic tile, for instance, come in a wide variety of colors, shapes and patterns and can be combined in a variety of unique ways. Hardwood flooring is also available in patterns like herringbone, checkerboard, and chevron which can provide an interesting contrast to existing —or new —tile, carpet, or other wood patterns.
Get This Look with a white oak look herringbone LVT or a mosaic ceramic tile.
Combining Retro with Futuristic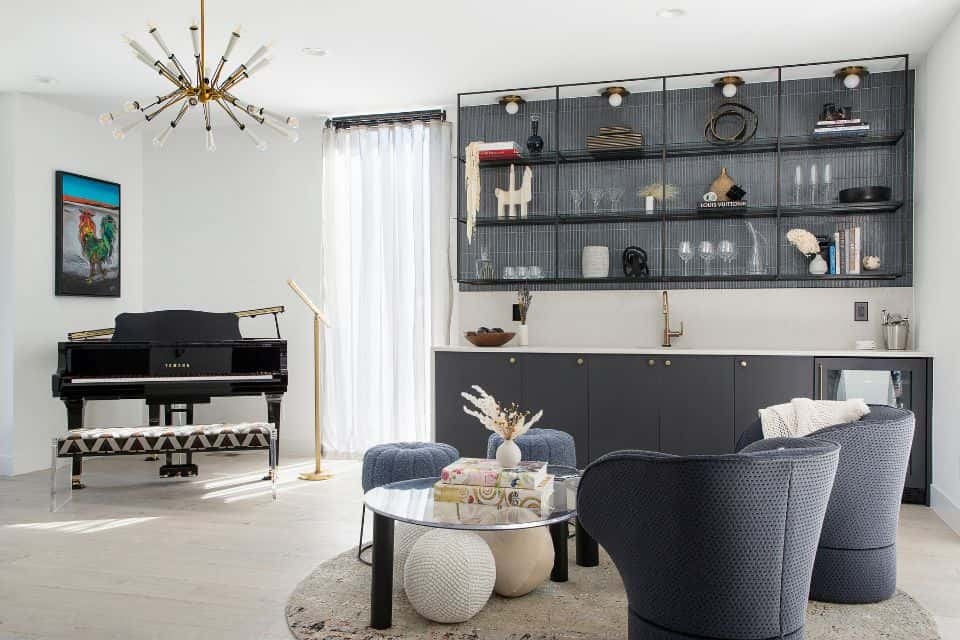 Design by MARGARITA BRAVO Photography by TAHVORY BUNTING
Influenced by the graphic design world and digital design trends, this trend combines futuristic with retro style to create a bold statement that's sure to get your guests talking. Think bold colors and bold outlines mixed with rough textures and abstract shapes to create a visual storytelling.
"The idea of combining both vintage and retro with digital art inspired by the Metaverse will continue to trend into the next year. Based on the 2023 Gucci collection, interior design will follow suit in creating retro atmospheres paired with a futuristic aesthetic, creating new designs and settings with an interesting new style," said Margarita Bravo, luxury interior designer based in Denver and Miami. "Vintage, retro pieces, traditional materials, and fabrications will continue to be used in contemporary ways. Some may wonder how they can incorporate a vintage accessory with modern design elements, and the answer is simple: utilize a color palette."
Be it hand-scraped hardwood, laminate or luxury vinyl, wood flooring makes any space feel warm and cozy. By adding an air of tradition and history, it's the ultimate in retro flooring. One way to mix things up stylistically is to inject some modern flair with futuristic textures, materials and eco-friendly options. Look for fashion-forward prints like leopard, tiger stripe and other animal print mixed with traditional old-world wood.
Get This Look with the our leopard print Rhythm of Life carpet.
Patterns and Texture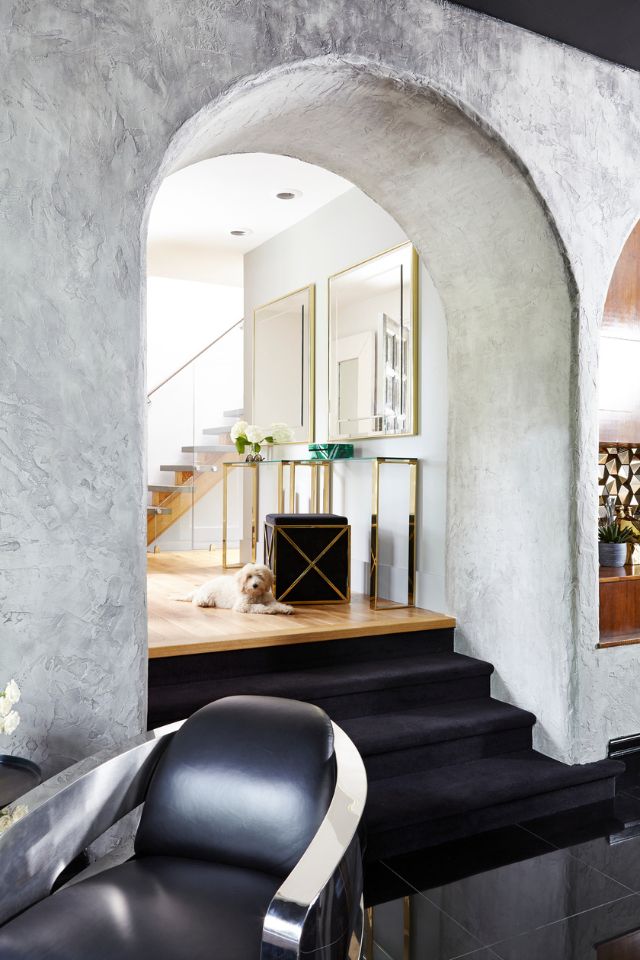 Design by KATE DAVIDSON Photography by VALERIE WILCOX
"Home design elements that will trend in the coming years include organic and natural elements, plus texture and patterns. Think textured, patterned floors and wall tiles, and textured tambour boards and wall treatments. The key is to curate these various elements carefully to create interest and balance. Terrazzo, graphic patterns, marble inlays, and boldly colored slabs and tiles will be a hit in luxurious interiors," according to Kate Davidson, lead designer at Toronto-based Kate + Co.
Carpet offers almost endless variety in patterns and textures. Classic patterns like plaid and tweed will always be popular, but for more of a statement choose carpet that has a more artistic flair. Texture, on the other hand, is a more subtle way to update a room. Other ways to combine patterns and texture to create a distinctive look are mix high-cut tufted carpet, sleek ceramic tile in geometric shapes and/or or real hard wood flooring.
Get This Look with a ceramic marble look tile or a textured patterned carpet.
Big Bold Color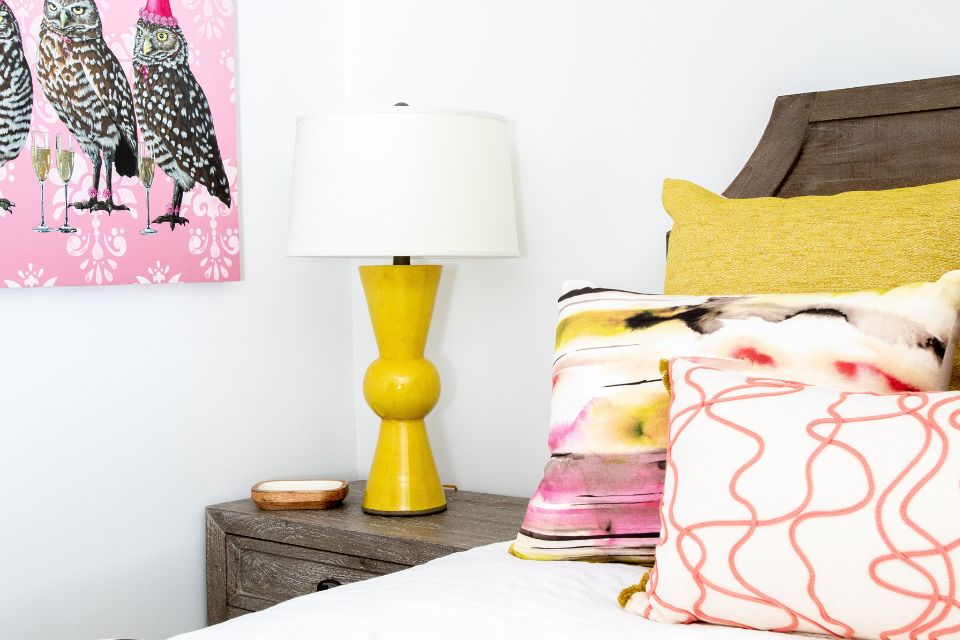 Design by KANDRAC & KOLE Photography by CATMAX PHOTOGRAPHY
Gone are the days of boring beige and basic blue covering every inch of floor space. Flooring in 2023 will be popping with vibrant colors. "The farmhouse aesthetic kicked off almost a decade of neutral, neutral, neutral. But, as we emerge from the pandemic, people are energized and ready to jump back into a life of travel, entertainment, and social events. This energy translates to color," said interior design duo Joann Kandrac & Kelly Kole of Kandrac and Cole in Atlanta.
Carpet colors include sunflower yellow, cardinal red, bubble gum pink and robin's egg blue; while tile comes in shades ranging from cobalt to cadmium. Even wood flooring features contrasting shades from dark to light. Combine more than one type of flooring in a room to make your space even more vibrant and visually interesting.
Get This Look with a plush blue textured carpet, a delicate pink porcelain tile or a green sculpted pattern carpet.
Vintage/Repurposed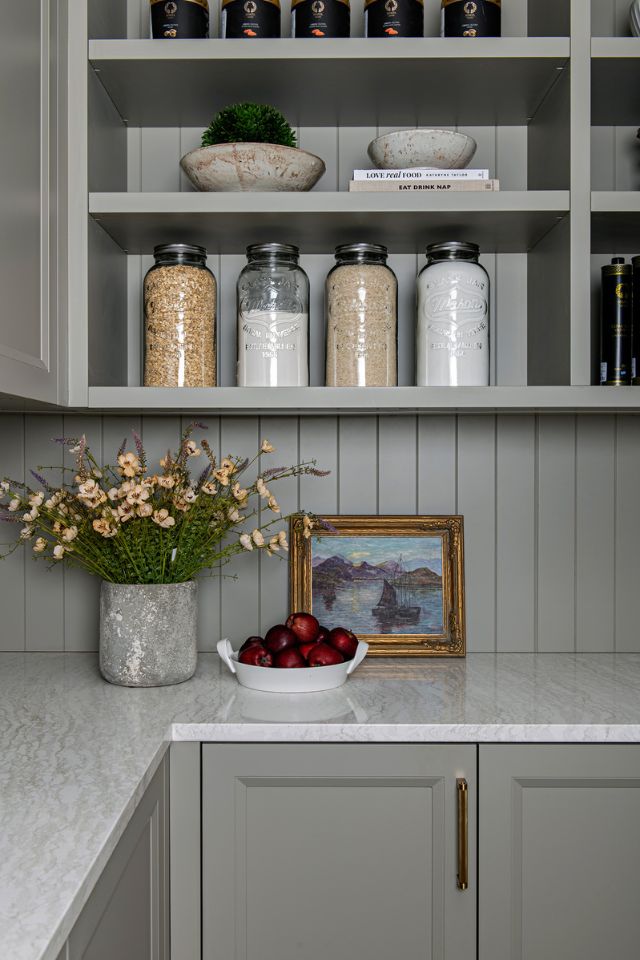 Design by PATTI WILSON Photography by MIKE CHAJECKI
Vintage and repurposed items will be back on trend —with a modern edge. "We are introducing more vintage and repurposed elements into contemporary and transitional spaces, and clients are embracing it big-time," said Patti Wilson of Patti Wilson Design in Ontario. "After being shut inside our homes for so long, I think we are all looking for a sense of comfort, simpler times, and maybe even a bit of nostalgia. Lovingly cherished, repurposed furniture, antiques, quilts, and artwork invoke childhood memories at grandma's house and can be seamlessly integrated into redesigned spaces that feel thoughtfully curated and gathered over time."
Everything old is also new again in flooring with hardwood, laminate and luxury vinyl designs giving off serious vintage vibes. Think dark, muted tones like embossed dark stain laminate and sliced black hickory hardwood are just two examples of the distressed, repurposed looks that will be big in the new year.
Wicker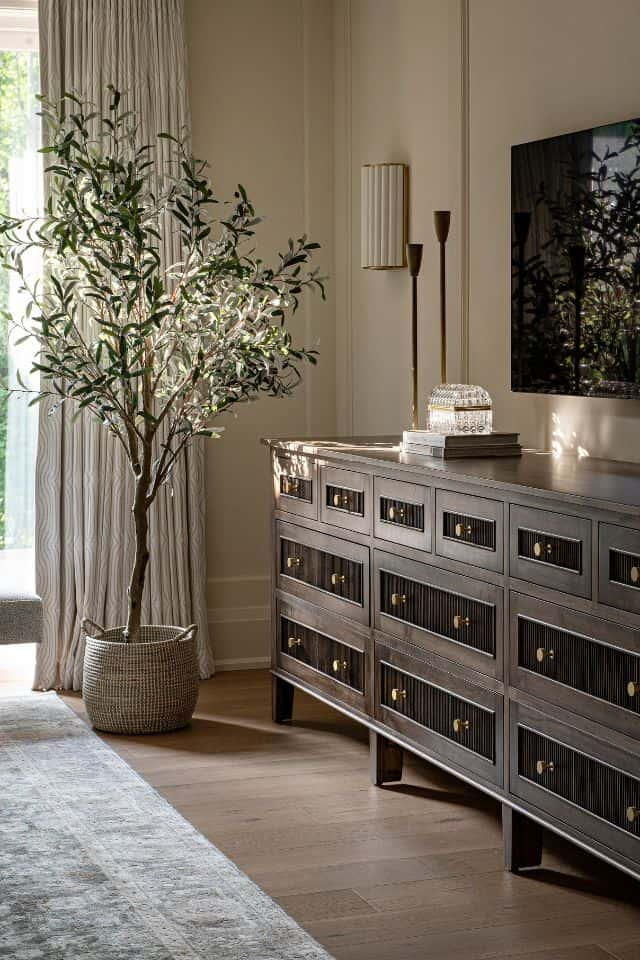 Design by PATTI WILSON Photography by MIKE CHAJECKI
Wilson also predicts seeing more wicker within home interiors. "We are seeing a resurgence of wicker made with natural materials like reed, cane, rattan, seagrass, bamboo, and willow. Wicker is being used in wall treatments and on everything from cabinet doors to furniture and headboards. Wicker, or any woven material, is a timeless classic detail that will have a lasting impression on interior design trends," she said.
Hardwood's natural grain and carpet with thatched weaves or patterns make perfect complements to wicker both in color and style.
Get This Look with a handscraped white oak hardwood, sculpted pattern carpet or a light finish wood-look LVT.
Colored Cabinetry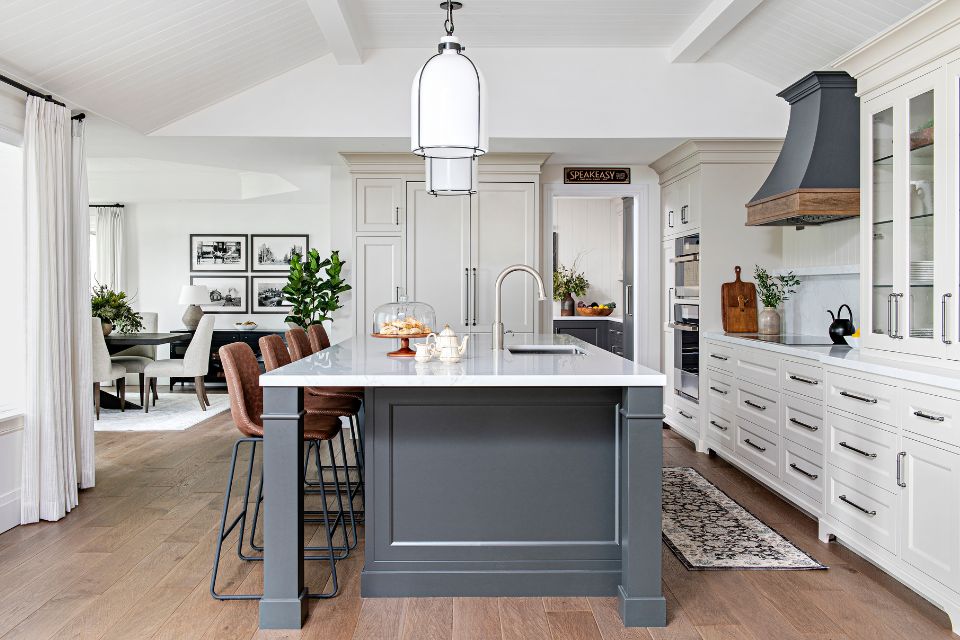 Design by PATTI WILSON Photography by MIKE CHAJECKI
And last, but certainly not least, the colored cabinetry trend is here to stay in 2023. Think navy blue cabinets, green tiled kitchens and customized stonework.
According to Wilson, "The all-white kitchen will always remain a constant; however, homeowners are feeling a little more playful when it comes to a pop of color on cabinetry in the kitchen and on other custom built-ins. Paired with a classic marble mosaic backsplash, soft-veined countertop, or vintage-inspired artwork and accessories, colored cabinetry is a classic and timeless trend."
Want to stay up to date with the latest flooring and design trends? Check out our design blog and read our latest issue of Beautiful Design Made Simple to get more exclusive designer insight into the new year's trends!