Tile Backsplashes
There are several different factors that need to be considered when remodeling or updating a kitchen or bathroom. The experts at First Floors Carpet One Floor & Home are here to help. The perfect kitchen requires planning, and choosing things like countertops and cabinets. Quite often backsplash is overlooked, and it is actually the easiest and one of the more affordable ways to update your kitchen. Originally, backsplash tile just a means to keep kitchen messes under control, whereas today it is the centerpiece of the modern kitchen.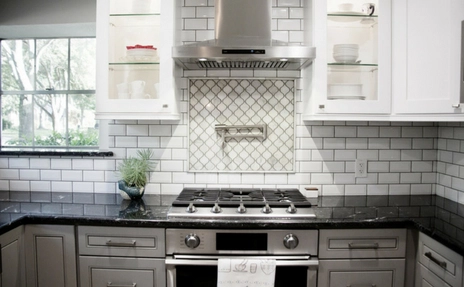 Benefits of Tile Backsplashes
Get creative with a function part of your kitchen or bathroom when designing with backsplash tile. Get inspired by things in your home and by using your own personal style. If you are still stuck on trying to figure out how to get creative with backsplash tile, watch a few home improvement shows or stop by our showroom to see different ways you can combine backsplash tiles with our samples. We are here to help you create a completely custom backsplash tile wall for your home.
The original function of a backsplash was to protect your walls from accidental food splatter from cooking. No matter how hard you try, some cooking activities are messy. With a proper backsplash tile arrangement, your walls are guarded. Almost anything comes off of a good tile with minimal effort, and stains are never a fear.
Just like floor tile, backsplash tile needs minimal maintenance and comes with benefits. One is that you can replace individual tiles relatively easily. You can essentially update the entire look of your kitchen with one small, low-effort change, and the best part is that a small section of tile is never terribly expensive.